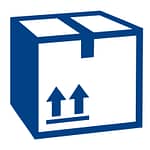 Shipping Policy
Shipping to any destination in the world is available on IDS' Supply Dispensers, Supply Lockers, and all other professional vending products sold or serviced by Intelligent Dispensing Solutions. Shipping is available via our own trucks dispatched from our factory warehouse, UPS, or private carrier.
All products and/or goods are F.O.B. manufacturer's warehouse. All shipping rates quoted on shopping cart are for continental United States only. Orders from Alaska, Hawaii, U.S. Territories and foreign countries are subject to additional shipping and handling charges.  Shipping charges change frequently. To receive the latest rate information please contact your IDS Solutions Manager Monday through Friday, 8am through 5pm Central Standard Time, at 1-877-771-4446 or you may use the electronic contact form to have an IDS Solutions Manager contact you directly.
Located in Des Moines, Iowa, Intelligent Dispensing Solutions is well positioned to drop ship to anywhere in the United States, as well as globally. We know exactly how to package and ship heavyweight products, reducing the opportunity for damage during shipping.