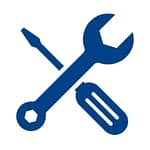 Service and Warranty
Our vending machine service and technical support truly separates us from others in the industry. Intelligent Dispensing Solutions provides technical support and has a robust global network of service entities to perform on-site repair and preventative maintenance services on our vending machines.
Our machines run at a 99% effectiveness and our team is responsible for that. Intelligent Dispensing Solutions is your one-stop source for support of any kind whether it be parts, technical support, equipment manuals or just a general question about your equipment.
Technical Support
Whether it's technical assistance over the phone or put you in contact with a local service provider we've got you covered.
Order Parts
As the hardware manufacturer, all of our parts are genuine factory parts. Aftermarket parts can be purchased directly from our in-house parts and technical service division, Vendnet. Vendnet is dedicated to providing quick, reliable shipments of parts throughout the world.
Warranty
IDS stands behind our equipment and our equipment is thoroughly tested to provide the highest quality service and reliability for even the most demanding dispensing requirements. Our equipment comes with Factory Warranty. We also offer extended warranties on our equipment. Contact a member of our team at 1-877-771-4446.
Inspecting and Receiving Equipment
It is extremely important to understand how to properly receive and inspect your equipment.