IDS Distributor: Bound Tree Medical
UCapIt, an Intelligent Dispensing Solutions application, proudly partners with Bound Tree Medical, a specialty distributor of emergency medical equipment, supplies and pharmaceuticals. Bound Tree's clients are Emergency Medical Services (EMS) professionals that provide pre-hospital, emergency care, including First Responders, EMTs and Paramedics. Bound Tree Medical supports the public safety community with their team of EMS-experienced sales and support representatives, backed by strong vendors including IDS, and a national distribution network.
For over 40 years, the Bound Tree Medical team has worked hard to help EMS providers save minutes and lives through their products, services and support. They stay on top with their latest innovations and technology and are always adding to their product category. Through asset management solutions to controlled substance ordering, Bound Tree is your go-to source for EMS supplies.
From everyday disposable items to capital equipment, Bound Tree Medical offers thousands of quality products from leading manufacturers to help organizations improve the quality of care and save lives.
Hear from Bound Tree Customers
The UCapIt system gives us a hard data inventory report we can rely on.
– Dan Lottes, Firefighter, D.C. Fire and EMS
I would recommend the UCapIt system to other agencies for cost-cutting factors, ease of use, inventory tracking and the continued customer support
– Rich Tvellia EMT-CC, Mastic Beach Ambulance Company
Supply Dispensers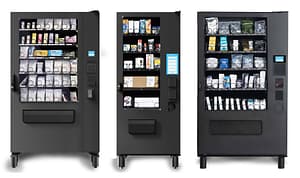 Supply Dispensers allow organizations to securely dispense a wide variety of medical supplies, narcotics and pharmaceuticals to authorized staff. Supply Dispensers provide a single point-of-access for your entire team and help keep your inventory safe, secure and organized. Take advantage of both refrigerated and non-refrigerated dispensers.
Supply Lockers
Supply Lockers are used to access or return medical equipment and supplies. They can be attached to a Dispenser or Locker for additional capacity. Each by can be individually programmed and has the option to add electricity for charging devices. Supply Lockers are adjustable from 3-18 compartments, depending upon your medical equipment and supplies sizes.
Combo Machine
The Combo Machine is ideal for locations with space constraints. It combines the benefits of a Supply Dispenser and Supply Locker into one machine with a small footprint. It allows authorized staff members to access a variety of emergency medical supplies and narcotics, while station managers are able to easily keep track of on-hand inventory.