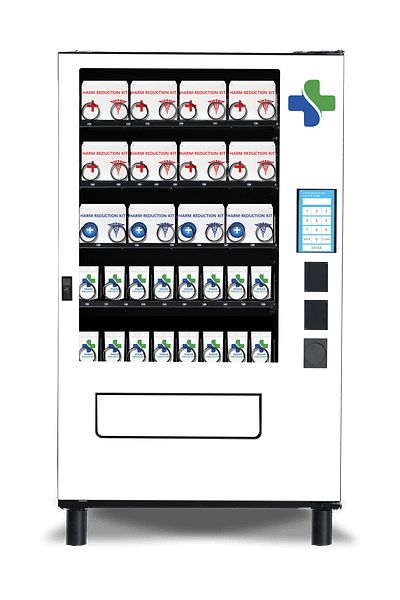 Harm Reduction Supply Dispenser
Convenient, 24/7 access to harm reduction supplies
Harm Reduction and Needle Exchange Dispensing Machines to Support Your Harm Reduction Initiatives
Our Harm Reduction and Needle Exchange dispensing machines are designed to support community-based overdose prevention programs, syringe services programs, and other harm reduction initiatives. Organizations and communities across the United States are utilizing our harm reduction dispensing machines to enhance overdose and other types of prevention activities to help control the spread of infectious diseases and support distribution of opioid overdose reversal medication to individuals at risk of overdose.
Fear of judgment can be the most critical reason for unsafe substance use practices. Our Harm Reduction and Needle Exchange dispensing machines ensure discreet access to harm reduction supplies like disposable needles, HIV and COVID-19 test kits, toiletry kits, tourniquets, overdose prevention kits, alcohol swabs, feminine hygiene kits, and other supplies.

AIDS Care Ocean State
AIDS Care Ocean State is Rhode Island's largest AIDS service agency and provides a wide range of programs including clinical, housing and prevention support. ACOS has been successful dispensing and tracking sterile syringes, needles, Naloxone and safe sex kits through their IDS equipment. These items are now easier to distribute and are more accessible for their clients.

"If people don't want to come into the office or don't feel like traveling 20-30 minutes to come to us, they are able to go the vending machines to get the things they need and not have that face to face contact," said Ray Joseph, ACOS Prevention Supervisor. "I also love the transaction reports. I can export them on the software with a click of a button and it make my job so much easier."
Impact Exchange
Impact Exchange, located in Nevada, makes it their mission to provide products, such as sterile syringes and injection-related products, to people across the state of Nevada to prevent HIV and Hepatitis. What originally started as one storefront location has turned into dispensing locations across the state.

Chelsi Cheatom, the Program Manager at Impact Exchange, said, "We wanted to make the dispensing of products easier and more accessible for people in our community. This was a brand new program and a way to expand services throughout the community, without the cost of adding employees and building expenses."
Provide easy 24/7 availability to harm reduction supplies while reducing the stigma

The timely availability of harm reduction supplies can play a measurable role in reducing unintended consequences or sometimes even fatalities. UCapIt's Harm Reduction and Needle Exchange dispensers ensure that the supplies are easily accessible to the appropriate audience and supports maintaining privacy. Harm reduction dispensing machines help address the stigma often associated with risky behaviors and encourage participation in harm reduction activities.
SAMHSA Harm Reduction Grant Program
Did you know that you may be able to fund the purchase of your Harm Reduction and Needle Exchange dispensing machines through Federal grants. For instance, the U.S Department of Health and Human Services' Substance Abuse and Mental Health Services Administration (SAMHSA) Center for Substance Abuse Prevention is offering a Harm Reduction Grant Program in 2022. States and local health agencies, Tribal organizations, non-profit community-based organizations, and primary and behavioral health organizations are eligible for this grant.
Harm Reduction and Needle Exchange Dispensing Machines

UCapIt's Harm Reduction and Needle Exchange Dispensers provide a quick, convenient humanless transaction experience while ensuring supplies are stored securely. We offer a temperature controlled option to ensure any supplies requiring refrigeration are stored at the appropriate temperature. For cold climates, the Harm Reduction and Needle Exchange Dispenser is equipped with an automatic heater allowing the heating of the machine to ensure supplies are stored at the appropriate temperature, and to eliminate condensation and fogging of the glass in high humidity locations.
Another optional feature is our Outdoor model featuring a Weather and Security package. These dispensers feature a rugged outdoor design with the ability to withstand the elements, suitable for almost any environment. The Weather and Security package includes: rain guards and sealing of sensitive areas, vandal-resistant panels over access areas and an impact-resistant polycarbonate window cover with a steel frame.
Our rugged Outdoor mode gives you the peace of mind when you need to place your Harm Reduction and Needle Exchange Dispensers outdoors and in other climate-demanding places.
iQ Technology for full control and visibility of your harm reduction supplies inventory
Powered by iQ Technology, our Harm Reduction and Needle Exchange Dispensers capture real-time data – such supply usage and inventory levels. With a robust, 24/7 reporting capability, you will have full control and visibility into the management of your harm reduction supplies.