Manage, Track and Secure Police Gear
Call (866) 409-2895 to get started today!
In an emergency situation, your team doesn't have time to go looking for the necessary equipment they need. Additionally, when you have various weaponry to keep track of, you cannot afford to have anything go missing. That is where UCapIt Law Enforcement Lockers come into play. Law Enforcement Lockers automatically create a full audit trail of police gear, so you have complete transparency when it comes to who has checked something out and if it was returned.
Begin tracking your police gear today by filling out the contact form.
Benefits of Law Enforcement Lockers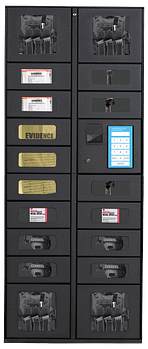 Police Lockers
UCapIt's Law Enforcement Lockers are created to help organizations improve process control. Each locker creates real-time reporting and alerts and is customizable for each organization.
Lockers can be accessed through a variety of methods including RFID badge, magnetic strip, Proximity card reader, barcode, personal PIN, Biometrics and more. Additionally, each report can be accessed through iQ Technology, the 'brain' of the UCapIt system, in order to track users and set authentication on each machine.
iQ Technology
iQ Technology puts managers back in control of their inventory resulting in reduced inventory carrying costs, decreased costs due to "shrink" and hoarding, and the elimination of waste due to expired products and pharmaceuticals. Its cloud-based operating system and inventory control capabilities provide management with full, real-time reporting of how, what, why and where, which allows the manager to set individual par levels, re-order points and critical alert points for their products.