iVendTech automated stock control hardware helps businesses ensure timely availability of essential supplies and IT products for employees. Its diverse portfolio of machines and their configurability allows dispensing for a wide variety of goods. From basic computer peripherals like keyboards and mice to high value goods like laptop computers or even textile products like uniforms, iVendTech can handle them all.
iVendTech hardware includes:
Supply Dispensers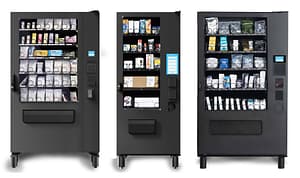 Supply dispensers from IDS are used to provide authenticated access to employees for office essentials and IT supplies. A wide variety of access control interfaces like card scanners, electronic key cards, mobile apps and the age-old number pad key pin can be deployed based on the type of users and the ambient conditions.
Smart Lockers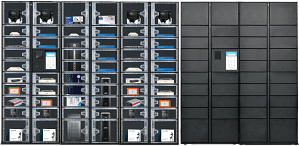 Smart lockers can be used when handling bulky or fragile merchandise. It can also be used for reverse vending or collection applications for broken products and repair. Supply lockers also help disburse expensive items like laptops and mobile phones through our will-call dispensing solutions.
The Importance of Safety and Compliance to Regulations in Dispensing Equipment
Like almost any type of office equipment and industrial machinery, improper use, a lack of training or maintenance and equipment that is not compliant with industry, state or Federal regulations can have serious consequences. Because of this, leading dispensing equipment manufacturers subject their equipment to rigorous testing and certification processes. Download our latest whitepaper below to learn about regulations in iVendTech dispensing equipment.
UVend Technology
Public, high-touch surfaces such as doorknobs, handrails and buttons on a supply dispenser or supply locker can be breeding grounds for bacteria and viruses. Patent-pending UVend Technology makes these surfaces safer by quickly killing or inactivating some of the most common viruses and bacteria, including influenza and the COVID-19 virus (SARS-CoV-2).