With the VendSafety hardware, manufacturing providers have access control, inventory management, and accountability over the entire MRO and PPE supply lifecycle. With a versatile hardware offering, VendSafety allows manufacturing facilities to take control of their inventory supply room and securely store, track and dispense a wide range of PPE products.
VendSafety Hardware Includes:
Supply Dispensers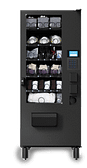 VendSafety Supply Dispensers allow manufacturing facilities to securely dispense many PPE and MRO supplies, tools, and safety products to authorized staff. Supply Dispensers provide a single point-of-access for your entire team and help keep your inventory safe, secure, and organized.
Supply Lockers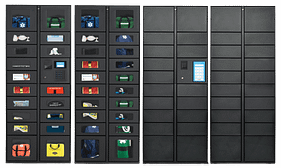 VendSafety Supply Lockers are used to access or return PPE tools and supplies. Our Satellite Supply Locker can be attached to a Standalone Supply Dispenser or Standalone Supply Locker for additional capacity. Each locker bay can be individually programmed and add electricity for charging devices, including drills tablets. Our Supply Lockers are adjustable from three to 18 compartments, depending upon your supply needs. They are ideal for larger equipment, including hard hats and boots.
The Importance of Safety and Compliance to Regulations in Dispensing Equipment
Like almost any type of office equipment and industrial machinery, improper use, a lack of training or maintenance and equipment that is not compliant with industry, state or Federal regulations can have serious consequences. Because of this, leading dispensing equipment manufacturers subject their equipment to rigorous testing and certification processes. Download our latest whitepaper below to learn about regulations in VendSafety dispensing equipment.