Convenient, fast access to IT devices, accessories and office supplies – any time!
Increase productivity and reduce IT / tech and office supplies costs
In today's modern, digital-first world, all aspects of end-user services — from apps to storage — are digital and cloud-based, but when it comes to the delivery, collection, management, and tracking of IT equipment, it's still overwhelmingly manual and time-consuming. In fact, on average, IT teams spend 2.9 days to fulfill user requests for replacement equipment, and IT asset management equates to 20% of all the time spent on end-user support. With IDS' iVendTech, end users have fast, self-service access to IT and tech peripherals, accessories, and office supplies whenever they need them.
iVendTech Smart IT Asset Management and Inventory Solutions
As we are all aware, IT requests can often take up valuable time from both your IT support staff and end-users, but our smart vending and locker solutions will enhance your support offering as well as make your user experience both seamless and easy. We have a wide variety of equipment solutions to provide you and your organization with the right balance of access and control for all office supplies, IT accessories and peripherals, technology hardware, and other assets used in your operations.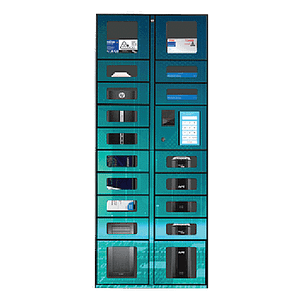 Looking for a way to increase the efficiency of your IT department? A smart locker solution from IDS iVendTech is the perfect solution to help save your business time and money. Our Smart Adjustable Locker solutions can help you transform your operations and allow users 24/7 self-service access to quickly and conveniently pick up or return company assets, supplies, online orders, packages, and other items. With our Will Call solution, Smart Lockers can be utilized as drop-off, exchange, or pick up stations for your organization's internal use of devices and tools.
By using iVendTech vending machines, employees have fast, easy access to low value, high volume office, and IT supplies, leading to increased employee convenience and productivity. Our Supply Dispenser vending machines provide single-item control over consumables items such as headsets, batteries, mice, charging cables, and other common office and tech supplies at the point-of-use, making them extremely effective for large campuses and office buildings.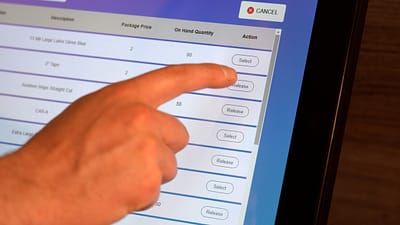 Virtual Tracker is a dynamic tool to help businesses track and manage inventory by making checking supplies in and out efficient, auditing easy, and real-time reporting of stock levels a breeze. Virtual Tracker allows you to maximize equipment and tool utilization to use your existing IT hardware assets better and make better purchasing decisions in the future.
Real-Time Reporting for Complete Inventory Control
Powered by iQ Technology
With iQ Technology, our cloud-base software, it's easy to set restrictions for who can access which items. Real-time transaction reporting provides an accurate chain of custody, enabling you to keep track of who is using what supplies and how much they're using. With real-time supply usage and inventory at your fingertips any time, anywhere, iQ Technology will enable you to make informed, data-driven, executive-level decisions with the power of enhanced knowledge and data analysis.
Proven solution with real results.
With over 150,000 pieces of customer equipment in-field, IDS's iVendTech is the leading provider of inventory management vending and locker solutions technologies for enterprises ranging from small, privately-held firms to some of the largest global organizations in the world. In fact, 1 in 5 Fortune 50 companies are utilizing iVendTech.