Enhanced office productivity driven by prompt resource availability
Higher productivity and greater employee satisfaction through office inventory management.
iVendTech helps businesses ensure resource availability in the modern office environment. Waiting for IT and office supplies reduces efficiency and negatively affects employee satisfaction. Harness the potential of our device-agnostic asset and inventory management platform for your business today.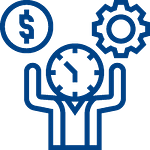 Timely Availability of Resources
Reduced Dependence on IT Support Desk
Monitoring Resource Consumption
Automated Reports and Alerts
Controlled Access to Office Supplies