Easy, Contactless Access to Self-Administered COVID-19 Test Kits

Provide easy and fast access to self-administered, rapid COVID-19 Kits conveniently on your campus or at your workplace. Our COVID-19 Kit Machines minimize wait times, reduce the load on healthcare professionals, and offer a safe and convenient humanless transaction.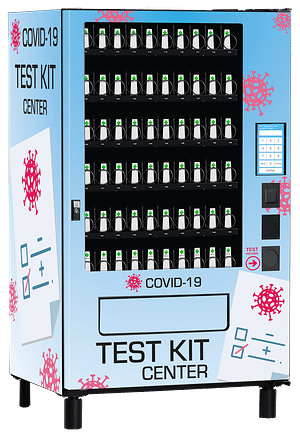 Rapid COVID Testing
UCapIt Rapid COVID-19 Testing Solution
Provide your employees and students safe, easy access to self-administered COVID-19 test kits with IDS' Testing Center. UCapIt's COVID-19 Test Kit dispensing solutions, as seen on 60 Minutes, can store, distribute, and collect test kits, and specimens. Many organizations have implemented testing efforts with a goal of improving the health and safety of workplaces, campuses, or communities by quickly identifying and containing any potential outbreaks of COVID-19.
Campuses – Educational and Organizational/Community Centers: UCapIt vending solutions at campuses or any self-contained ecosystem can help identify contagious diseases such as COVID-19. The machines are configurable to dispense commonly used test kits that diagnose conditions such as COVID-19, diabetes or pregnancy.
Workspaces: The UCapIt Rapid COVID-19 Testing Machines are ideal for business organizations for giving employees the chance to get themselves tested regularly and minimize downtime within the organization. Our dispensers can help organizations comply with local, state, or ompliance with government regulations for preventing contagions at the workplace will no longer be a pain.
Medical, Healthcare, and Hospitality Establishments: Frontline workers, first responders, and the hospitality industry operate in conditions beyond their control. Easily-accessible, Rapid COVID-19 Test dispensing and traceable sample collection can reduce their workload, allowing them to care for more urgent needs.
High Traffic, Public Locations: Our Rapid COVID-19 Testing Machine is ideal for high traffic locations like transport hubs (airports, metro stations, bus stations), malls, indoor sports centers, convention centers, etc., where space is a constraint. Our COVID-19 Test Kit Machines can also be custom-fit to specific environments like vehicles or temporary outdoor installations.
The University of California San Diego (UCSD) and San Diego State University (SDSU)
The University of California San Diego (UCSD) and San Diego State University (SDSU) utilizes COVID-19 Test Kit Dispensing Machines to help proactively identify and manage the spread of COVID-19 throughout their campus.
"Access to testing remains a critical offering during the ongoing pandemic," said Interim Vice President for Business and Financial Affairs and Chief Financial Officer Agnes Wong Nickerson. By providing access to this health technology, our students, faculty and staff, no matter their vaccination history, will be able to quickly and easily access COVID-19 tests throughout the day and into the evening."

Locations for the COVID-19 Test Kit Dispensing Machines can be found using the university's interactive map. From there, students and staff members can use their RedIDs to access a test kit. As the university continues to implement its Return-to-Learn program and its daily requirements to test, students can easily access the test kits they need through the COVID-19 Test Kit Dispensing Machines around campus.
Serving over 36,000 students, San Diego State University (SDSU) is known for providing students with opportunities to prepare them for the future. What happens, however, when a global pandemic ravages the United States? The leader in public research has to come up with a way to keep students safe, while providing them with a quality educational experience.
How it Works

To receive a test kit, a user simply scans their employee badge or campus card via the barcode reader on the machine. Our iQ Technology cloud-based software, verifies the user's credentials in order to dispense the test kit. After the user completes the test kit, the user returns to the machine scanning their employee badge or campus card and the barcode on the test kit package, and then places their completed test kit into the return slot on the machine.
With iQ Technology you can determine the frequency of access to test kits by specific user, department or organization-wide. For example, you may allow individuals within your organization's warehouse facility to access one test kit for their own usage on a weekly basis.
The individual self-administered tests are identified by using a barcode that is scanned when the user returns the completed test kit to the COVID testing vending machine and links to your company's employee budget or organization's campus cards. This identification step is critical to ensure accurate and timely results.
COVID-19 Test Kit Machines

UCapIt's COVID-19 Test Kit Dispensers provide a quick, convenient humanless transaction experience while ensuring supplies are stored securely. We offer a temperature controlled option to ensure any supplies requiring refrigeration are stored at the appropriate temperature. For cold climates, the COVID-19 Test Kit Dispenser is equipped with an automatic heater allowing the heating of the machine to ensure supplies are stored at the appropriate temperature, and to eliminate condensation and fogging of the glass in high humidity locations.
Another optional feature is our Outdoor model featuring a Weather and Security package. These dispensers feature a rugged outdoor design with the ability to withstand the elements, suitable for almost any environment. The Weather and Security package includes: rain guards and sealing of sensitive areas, vandal-resistant panels over access areas and an impact-resistant polycarbonate window cover with a steel frame.
Our rugged Outdoor mode gives you the peace of mind when you need to place your COVID-19 Test Kit Dispensers outdoors and in other climate-demanding places
iQ Technology for full control and visibility of your harm reduction supplies inventory
Powered by iQ Technology, our COVID-19 Test Kit Dispensers capture real-time data – such supply usage and inventory levels. With a robust, 24/7 reporting capability, you will have full control and visibility into the management of your COVID-19 test kits inventory and for compliance and reporting purposes.
iQ Technology can integrate with third party applications via sure API integrations that provide a myriad of data. For example, send updates to the test kit users and help users track the sample, the ETA for the results, and the results in their preferred mode of contact and communication. We also provide development tools, as applicable.