UCapIt uses the latest technology to control inventory access to pharmaceutical supplies, including first aid medical supplies and emergency medical supplies. Ramp up employee accountability and reduce supply waste with state-of-the-art software and hardware solutions.
Software Solutions for Pharmacy Inventory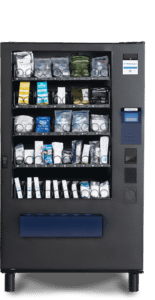 The Controlled Access Pharmaceutical (CAP) dispenser includes a proximity card reader, bar code scanner, biometric reader, secure networking and real time reporting via the Internet. Its tracking technology works 24/7. Customized usage reports can be set to be sent daily or weekly. This way, pharmacy inventory can be managed, monitored, and tracked. All withdrawals of pharmaceutical supplies are cataloged, time stamped and regulated. In addition, EMS health care workers have immediate access to emergency medical supplies and can restock their units 24/7. Once staff ID is recorded, the CAP dispenser can be programmed to ask for a vehicle number or second ID before dispensing restocked items. Lockers can also be added to record and control access to oxygen, narcotic kits and laptops. Storeroom pharmacy inventory can also be tracked with expiration codes. With its real time reporting feature, usage reports can even be integrated with the company billing software. This software solution is innovative, revolutionary and works 24/7.
Hardware Solutions for Pharmaceutical Supplies
UCapIt offers the CAP 5 and CAP 3 dispensers along with lockers for add-ons that accommodate larger items, such as trip bags and oxygen tanks. Each comes with a refrigerated option to keep pharmaceutical supplies at optimal temperatures for a longer shelf life.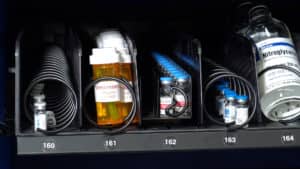 The CAP 5 allows for full control over a wide variety of packages and products. It has an intelligent control system for 24/7 real time reporting of transactions. Constructed of 20 gauge steel with welded seams and internal bracing, it's built to last and deliver reliable service. Standard LED lighting provides high visibility for dimly lit areas. Multiple interfaces are available, including biometric reader, bar code ID scanner, proximity card reader and pin number. Bulky packages are easy accessible through its extra-large delivery port. The CAP 3 is a smaller version of the CAP 5 with the same great features. Door Lockers are available in three or 12 compartments and different colors like red, white and blue.
All of UCapIt dispensers are engineered for high reliability and easy maintenance. Computer controlled machinery is used for its construction, and each machine is checked for optimal performance before installation.