WE WORK BEST WITH...
Enterprise & Corporate
Smart, Simple and Secure Asset Management for the Modern Workplace
Professional vending machines from Intelligent Dispensing Solutions help meet the demand for office supplies in the modern office environment. Today's workforce is more mobile than ever. Working from home is not the fad we thought it would be and ensuring the availability of necessary supplies at the right time in this dynamic environment can be a headache. Solutions like iVendTech from Intelligent Dispensing Solutions can help you do just that.
Your IT support team no longer needs to be running from desk to desk for replacement parts. Automated innovative dispensing solutions from Intelligent Dispensing Solutions can turn complaints from dissatisfied employees into compliments from happy teammates.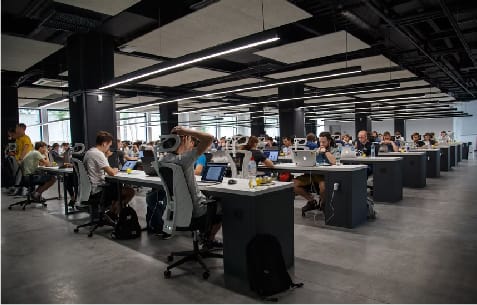 Don't keep employees in the dark regarding the availability of supplies. Businesses can now make all requests and subsequent tracking online through interactive web and mobile portals. Prompt alerts can notify readiness for the requestor and collection status for the provider.
Oversupply of necessary resources can be a big problem, as is a shortage. Employees may not realize that they are denting profitability when they pick up those extra markers and papers they did not need. Frequent replacements will also leave unnecessary waste that requires money and effort to dispose. Our back-end tracking software can help address shrink and waste through asset control.
Intelligent Dispensing Solutions brings configurable automated retail machines that meet diverse professional vending service needs. Large or small, the same dispensing machine can dispense several IT and office supplies. This versatility not only reduces capital expenditure but also helps save space and the cost of upkeep.
iVendTech machines, combined with the iQ Technology software platform, deliver cost savings, reduce IT support workload, improve employee satisfaction, prevent hoarding, and improve profitability. It makes the modern office homely and the home office efficient.
IDS's Product Line has Been Perfected with Over 90 years of Experience
Say Goodbye to Inventory Tracking Problems
Applications
Inventory control systems for today's workplaces
Inventory control vending machine systems are our specialty. Regardless of industry, our solutions are designed to meet the needs of your workforce, ensure employee satisfaction and most ultimately, improve the bottom line. Our Intelligent vending machines can help track inventory without being physically at the machine with real time software. Simply login to the program and see what your inventory needs are for each machine. Inventory control systems with smart vending machines are a huge benefit to any business.